Price: €159 (kit)  €199 (assembled w/LED option)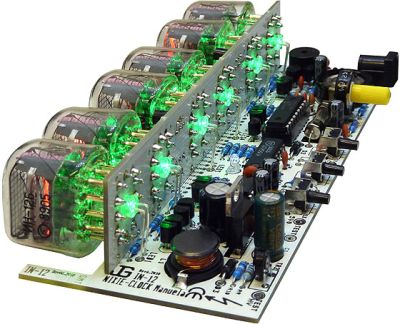 Here is a nice IN-12 Nixie clock that is sold as a kit or may be purchased fully assembled for 40 € more. One neat feature about this clock is that the tubes are backbit with color changing LED's that can be programmed for a specific color or allowed to fade between colors.  (The back light brightness is adjustable.)  For the time display, several modes are included: scrolling date, display fading, and digit cycling in.
If anyone gets one, please leave a note in the comments!


Features:
Tubes: IN-12 Nixie tubes, 18 mm digit height, decimal points with flashing LEDs.
Background lighting: brightness adjustable.
Alarm: adjustable time, snooze and tone.
Time format: 12- or 24 hour mode.
Display: time / alarm / date / or alternating time - date.
Effects: scrolling date, display fading, digit cycling in different styles.
Power: 12VDC 350mA max.
DC Power consumption: ca. 3VA (full tubes and background LED brightness).
Timekeeping: more than 1h with 1F SuperCap in the event of mains failure.
Time accuracy: internal 4 MHz crystal, adjustable with buttons for minimal deviation.
Dimension (w x h x d): app. 200 x 50 x 80 mm (incl. tubes)
Weight: app. 450 g
Links