Josiah, the creator of the Coachella Lamp has also submitted two, very nice, B7971 GeekKloks.  These are based off of the Zetalink** kit and known for both the enormous B7971 tubes as well as the...inventive...time display font used.  Josiah did a great job with both of these clock.  The first is mounted in a traditional desktop display while the second clock has the PCB behind the display for wall mounting.
The clock is powered by a 16v power supply.  There is an on board DC-DC power converter that is used to power the clock & B7971's.  Sadly, this design requires an obsolete MAX771 switch-mode power supply.  Time is measured against the local mains reference but these clocks do include an internal RTC to guard against a power failure.  The display itself is multiplexed (as opposed to directly driven.)  Given that there are 15 segments per tube, this isn't surprising :)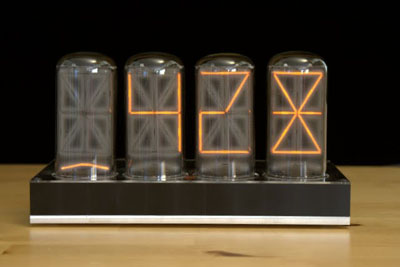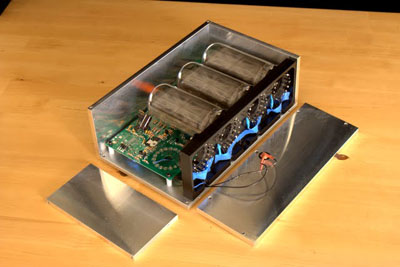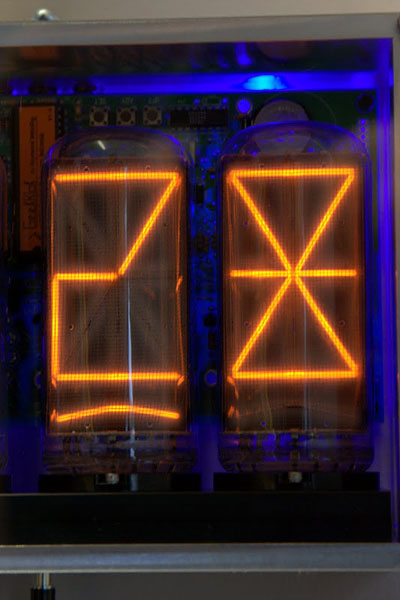 Other features (according to manufacturer)
50 different number fonts (character sets) to choose from.
Fonts include number variations, distorted numbers, contorted numbers, fanciful numbers, etc.
Time can display using animated characters. Clock optionally shows seconds on underline segments, simulating a left-to-right progress bar (2 variations)
Special fonts for Roman (digit by digit) , true Arabic, Chinese/Japanese, and Klingon numerals.
Other "secret" fonts available for "private" reading capability
12- or 24-hour clock modes available. In 12-hour mode leading zero can be blanked or allowed to show.
Alternate time zone display can alternate with main display at different rates, and can use any alternate font.
Date can use any alternate font to help differentiate it, and can be displayed at different rates or turned off.
Date displayable in DD-MM or MM-DD (numeric) format.
Time Setting and User Preference register editing can be locked out by DIP switch setting.
35 User Preference Registers control options and settings, use mnemonic names for editing.
User Preference Registers and Font Use Settings can easily be edited.
Date or alternate time zone display can also use one of several display variations (wink, spasm, etc.)
Serial (RS232) input to set time, or control blanking and font selection.
Serial (RS232 or direct) output can be used to make chime tone modules or alarm modules.
Accessory jack for seconds display module (intended for smaller numerical nixies, no font changes available).
Links
**Read this before even considering placing an order.  It appears that no one has received merchandise that they paid for Raymond since 2005.  From Jeff: "Do Not believe that you might receive any paid-for products from Raymond Weisling. Although the zetalink cover page notes that he is temporarily unable to deliver, the swreg shopping cart is fully operational and will accept your payments!"