VERY LARGE VFD DISPLAY TUBE ILC1-1/7 clock nixie 4 pcs
Found on eBay / Starting bid $135 / 4pcs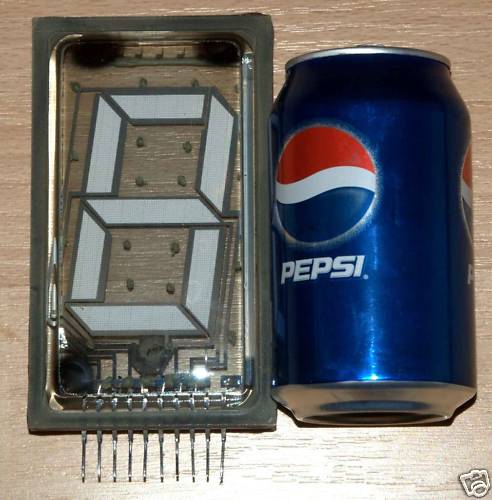 I found these large flat VFD tubes on eBay and this appears to be the second or third set from this seller.  They are apparently NOS and could make a killer clock.  Not one you would want to keep in your bedroom, but it would be distinctive.  These DO have a filament so multiplexing these would be possible.  As far as the seller goes, I have purchased several tubes from Urals and had great service every time.  I don't know him personally but I wouldn't hesitate to order these...if I had a use for them!
From the auction
Very large VFD display tube ILC1-1/7.
Lot of 4.
This never been used, from the old stock.  Indicator displays one digit.
Size 83mm x 140mm. Size sign 46mm x 85mm. Color green.
| Parameter | ILC1-1/7 |
| --- | --- |
| number of segments in sign | 7 |
| filament, consumption of current (nominal), mA | 120-220 |
| rated (nominal) voltage of filament, U | 4.2-5.5 |
| rated current of grid , mA | 35-80 |
| Constancy summary current anodes-segments, mA | 70-100 |
| rated (nominal) voltage of anodes-segments and grid, U | 22-24 |
| brightness , kd/m | 600 |
Links