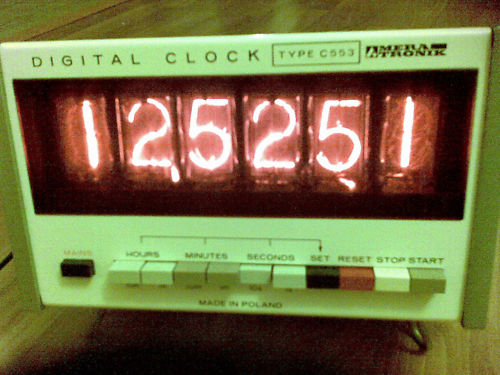 From The Auction:
Technical Description :
THIS POLISH VERY RELIABLE CLOCK IS A PIECE OF SHORT SERIES NIXIE DEVICES MANUFACTURED IN THE SEVENTIES BY POLISH MERATRONIK (KNOWN AS PRODUCER MEASURE EQUIPMENT LIKE V543, V533, V541, V540 AND MORE). THE CLOCK IS IN WORKING CONDITION, 6 TUBES Z5660M ARE IN A VERY GOOD CONDITION WITHOUT SIGNS OF POISSONING. THE CLOCK HAS SOME LITTLE SCRATCHES ON CASE. CLOCK IS ORIGINALY PREPARED TO WORK WITH 110/220 V AC (external jumper), EXTERNAL KEEPING SETTINGS BATTERY (RANGE FROM 7 TO 10V DC), ADDITIONAL ELECTRONIC (g1,g2) CONNECTORS USED TO CONTROL OF EXTERNAL DEVICES . POWER CONSUMPTION 20VA.
ITEM CONDITION - USED. CLOCK IS SOLD AS-IS.
Links