Here is a friendly plug - the seller is Mike of BadNixie.com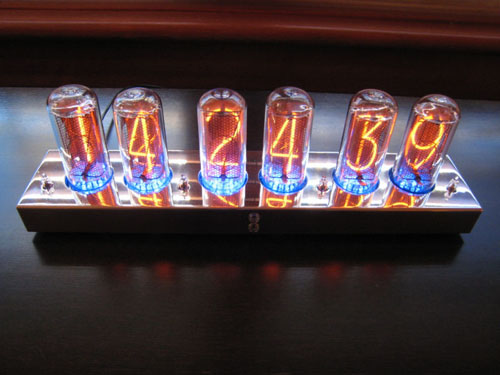 "BigTime II", Remote Controlled Nixie Clock by Laurence Wilkins of the UK.
This clock is no longer made and has become a classic. It is sought after by collectors and enthusiasts alike. It is a rare find! It is being offered here with a complete set of 6 functioning IN-18 Nixie tubes, all original documentation, Remote Control, AC to DC power adapter, Slave Clock relay Option, and Temperature Sensor per my original purchase. The tubes alone are now selling for as much as $300 per set of 6! There's still time before Christmas to grab one of the most unique Nixie clocks ever made. Good luck and good bidding!
Here are the main features of The BigTime II; a large six-digit nixie clock:
Fully remote controlled – The BigTime contains no (0) moving parts! (well, OK, apart from one reset switch)
Large (40mm high display) Six-digit display showing hours, minutes, seconds, or day, month, year
Super-smooth fading between digits
Automatic or manual selection of mains (50 or 60Hz), on-board crystal or other external frequency reference
12 or 24-hour hour display mode
Indicators for AM/PM, time, and alarm-set mode
Alarm, with snooze
European or US date display formats DDMMYY or MMDDYY
Simple hourly beeps or complex "Westminster" chimes with selectable Silent-Night mode
Plays "Happy Birthday" on up to four specified dates
Automatic leap-year calculation
Universal Automatic Daylight Savings Time calculation for almost all geographies, including new US DST rules (2007 onwards)
Manual or automatic display brightness
Safe, low-voltage design, via a 9-16 V AC or DC "wall-wart" UK or EU power supply; US customers will need to provide their own simple power supply
On-board battery retains The BigTime's time and settings for a minimum of 4 days in the event of power loss
On-board loudspeaker for more compact design
Optional external temperature probe (-50C to 120C, or 58F to +255F )
Optional relay output to drive slave clocks or other equipment
Optional GPS (though The BigTime can work without this)
Every clock is individually serial numbered and comes with its own certification
PAYPAL IS  THE ONLY FORM OF ACCEPTED PAYMENT!!
Links