Photo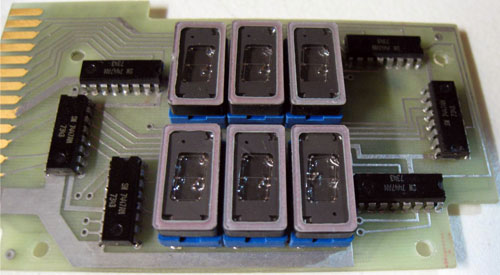 Description
This auction is for a vintage 3015F Minitron 7 Segment Display Board.

Condition: Used. I do not have the equipment or training to formally test this board or the 7 segment displays, so it is being sold "as is".

Description:
The printed circuit board contains six 3015F Minitron tube incandescent 7 Segment Displays, each fitted onto a standard 16 pin IC DIP socket. They are driven by six conventional 7447 LED drivers. Board has " C.E. COX CO." and "DUAL READOUT CC-200-29 a" silkscreened on it. I was unable to locate any information or schematics for this board.

A minitron is an advancement of filament display technology that follows the same evolutionary step as a panaplex neon display. Instead of being sealed into a tube, minitrons are constructed into rectangular DIP-style envelopes that can be easily integrated into modern circuit layouts. The 3015F is a fairly standard example of such a device: it has a glass front bonded to a sheet metal case, which is covered with a removable plastic cover. Digit height is 0.36" and the package (16 pin DIP) is 0.87" x 0.45" x 0.24". 8 ma / segment. They can be powered by low voltage (5Vdc).


Links