Photos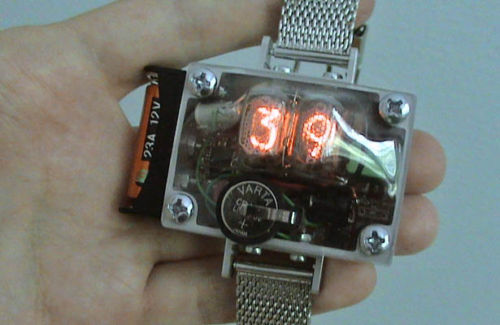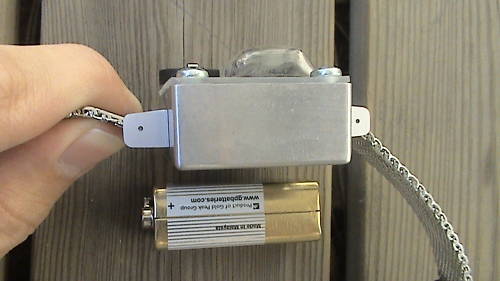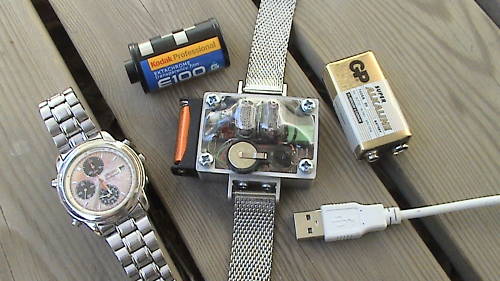 Description
Here is a new NIXIE watch. Great for parties, events etc. A nice collectors item too. Maybe even for everyday use. It is very difficult to make such a small watch with NIXIE tubes, hence they are much more expensive than full size NIXIE clocks. Because of the requirements of the tubes the battery lifetime can never be as long as of the lifetime of batteries in regular watches with mechanical or LCD displays.

Only a very limited number of these watches will be made.
A case made of aluminum with a polycarbonate front glass
Width (with battery): 63 mm, Depth: 37 mm, Height (from front glass to bottom): 28 mm
Two IN-17 tubes
Two Batteries required: CR1216 or CR1220 (3 V) for the logic, 23A (12 V) for driving the tubes. Both batteries are available cheaply on Ebay.
A replaceable watch band. The width is 18-19 mm.
A magnet sensitive switch for time setting. The time is set by operating the switch with a magnet.
24 h or 12 h format. The watch is switched to the 12 h format by activating the magnet sensitive switch while placing the 3 V battery in its holder.
The watch is best worn on the left wrist. The right hand version has the battery case on the other side.
Raising the hand activates the display for few seconds. The hours are shown first, followed by the minutes.
The package will be send insured, and the full value is marked on the customs declaration form. Send a PM if you want uninsured shipping.

The other objects in the photo are for size comparison only.
Links