By ThinGeek (OEM Unknown)
Price $35
This is another gimmick clock but it is well executed and it looks nice. Each HH MM SS display is separated in to its own cube with the controls on the HH. They are tethered with a small wire and the whole device is powered via a mains transformer.  For $35, you can't go wrong with one of these.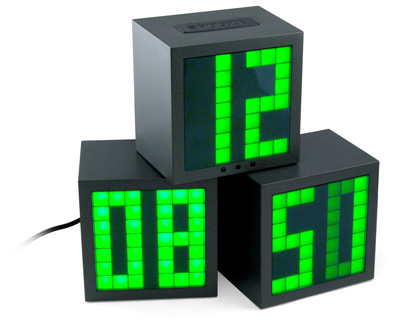 FTA
A customer sent us an email once and she said, 'ThinkGeek? Why can't you make us an alarm clock that has a techie feel but is also stylish?' We pondered the question, drafted some blueprints, built a prototype from pop tarts and LED arrays, and, voila - the Matrix Cube Clock was born. Ask, and you shall receive. Connected by thin ribbon cables, each clock module can be stacked vertically, horizontally or in a pyramid, depending on your mood and the alignment of Jupiter and Saturn's moons.
Dimensions: Each cube is approximately 3.5″ square. 12 or 24 hour format available! Even includes a snooze button. Woohoo!
Buy it now at ThinkGeek.com