Philips PM 2422A Multimeter
In the post today a new piece of equipment arrived from a friend of mine in the Netherlands, who spends far too much time in electronic junk yards, fishing for equipment to make things out of. He recently found an original Philips PM2422A multimeter with ZM1000 tubes. He was kind enough to send it to me. This is the opening of the package and the testing to make sure that it had arrived safely.
The meter uses 3 ZM1000 tubes, a "half digit" tube, capable of displaying a "1", and another small tube, capable of displaying a "-". I have no idea what the "half tubes" are. Here is a picture of the ZM1000 tubes in their original location: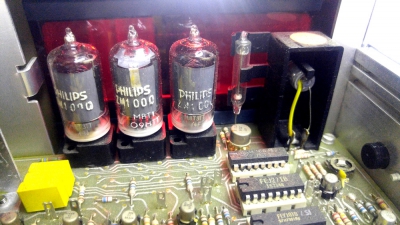 The "half tubes" can be seen to the right of the three ZM1000s: there is a tall thin one, which shows the "1", and a round one (with the yellow wire) which is the "-".
There is also plenty of dust in there as well.
Here's the video of the unboxing:
Service manuals
One thing that manufacturers of today should take notice of, is that equipment of the era the PM2422A was made in always had a service manual available for them. This one has a chunky 62 page manual that explains everything about the way the unit works, as well as detailed instructions how to maintain and trouble shoot the unit. Try finding a piece of equipment with that level of detail today!
If you want to have a look at the manual, it is here: https://www.tubeclockdb.com/downloads/Philips_PM2422A_ENG.pdf
Links