by Pixel Design
Price: TBD, currently $103 on eBay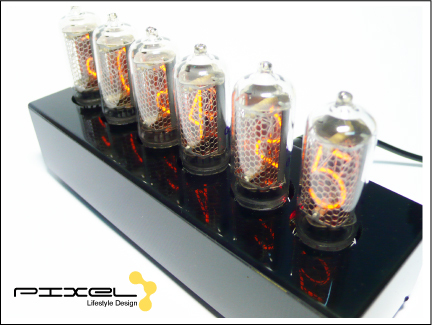 I just found this clock on eBay from a new seller, Pixeldesign2009.  It is based on a Russian IN-8-2 tube and has a built in time base.  No more information is provided via the auction other than it has a "built in RTC clock."  I am guessing that it is just an inexpensive mechanism as precision does not seem to be the focus of this device.  Additionally, based on the description, this appears to be 24-hour mode only.  Lastly, no information is given on whether this is a directly driven display or multiplexed.
With all of that said, this could be a nice addition to any collection.  The tubes are pretty small and while no dimensions are given, I am guessing the clock is no wider than 6 to 8 inches. The case appears to be a black plastic and does not appear to be a kit of any kind.  For $100, this isn't a bad deal.
UPDATE 12-28-2009:
I contacted the seller via eBay and asked for more information on this device.  The following information was provided:
Software

Time display
24-hour mode
Date display
YY:MM:DD mode
HH:MM:SS 24Hr mode
Programmable tubes shut-down by power switch and time still correct count.

Hardware

Tube module design: easy change tube module without soldering for tube life issue.
MCU running at 24MHz
RTC with battery back-up (CR2032 Lithium battery)
Tube's Drive mode: multiplex mode with PWM control for tube life issue.
3 push buttons to adjust time and date.
Power supply: 12V 300mA DC 5.5/2.1mm jack with positive inner high
precision (10PPM)timebase XTAL(32.768KHz)
The Dimensions of it are (W.L.H)172mm x 59mm x 39mm and(W.L.H)172mm x 59mm x 80mm(With Tube Module).
Links