Price: $210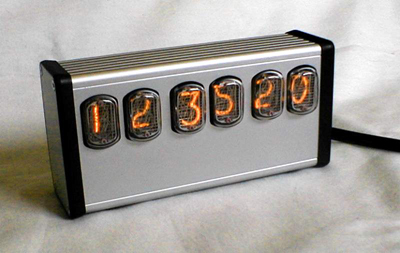 I found this clock while looking for new content and not only is this one of the few clocks with end view IN-12 / ИH-12 nixies, they also have a great domain name.  I am partial to the 6 tube version but he also sells a 4 digit version as well.  I really like the simple design of the clock.  There is something oddly cool about the upside down "2" that is used for the 5 digit in these tubes.  I think this might be the next one to add to my collection!
While you're there, be sure to check out his IN-14 based clocks as well.
Description from Tubeclock.com:
Be mesmerized as you watch the seconds change on this 6 Tube clock. 

Six IN12 Nixie tubes display either 12 or 24 hour (military) time. Measures 6 1/2 " wide, 3" tall and 1 3/4" deep. Weighs approx. 19 oz.

Fully assembled and ready to use.

Please note that this clock requires U.S./Canada standard wall power (120V AC, 60HZ).
Links:
All images and text used with permission and are property of Peter J. Jensen, LLC.