Price: $call / limited production of 10 units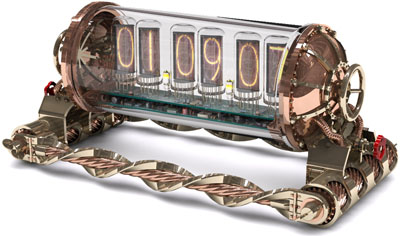 From unobtainium.eu:
Nixie Clock Steam Punk Style.
Limited run of 10 only.
6 x IN-18 Nixie Tubes.
All Parts outside the Tube solid Copper and Brass Polished.
Gold Option.
Toughened Glass Tube.
Alarm, Time, Date.
The red stop cocks are the switches for setting the clock.
Hardwood and Brass Case.
+44 0208 533 7972
Agent and Gallery enquiries welcome.