By Dieter Wächter / Nocrotec
$TBD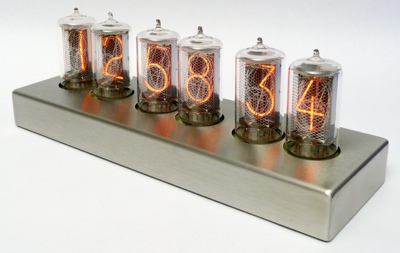 This is the latest creation from Dieter Wächter / Nocrotec and it is based off of RFT Z5660M tubes.  There are two version of this clock listed on Nocrotec: V600-NT and the V600-RT.  The NT is the one for sale and has the "nipple top" whereas the RT version has the rounded tube design.  I believe the clock has a buy it now proce of around $800USD but since bidding has started, I cannot find the price.
As usual, Dieter has done a great job of documenting the design and building of this clock.  You can see all of the details here: http://www.tube-tester.com/sites/nixie/nixie-clocks/v600/v600.htm
Highlights:
Fading digits (see video)
Stainless Steel Case
Directly driven display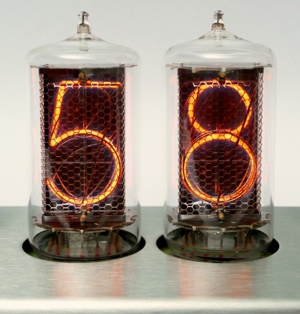 From the auction description:
JUST RELEASED. LIMITED QUANTITY!
This Nixie clock combines nostalgic Nixie tubes with innovative circuitry in a nobly stainless steel case. Its elaborate software and features, the good craftsmanship and the beautiful case make this clock a distinctive top-quality product. It's a handmade masterpiece in design and functionality.
This clock uses the beautiful Z5660M tubes with a digit height of 1.2" (30 mm) made by RFT!

DESIGN
Well balanced proportions and a clear geometry making up for a coherent and disciplined yet charming design. The clock is a celebration of purist elegance. The case is made of brushed stainless steel - a complimentary material for this unique Nixie clock. The surface is very shiny and reflects the orange glow of the Nixie tubes - you won't be able to take your eyes off it. We will send a pair of cotton gloves along with your Nocrotec V600-NT Nixie Clock in order to avoid leaving fingerprints on the case. Please wear them whenever you touch your Nixie clock.
View the wonderful case finish here:

TECHNIQUE
The Nocrotec V600-NT Nixie Clock uses a state of the art circuitry. Time is kept by precise real time clock. It's accurate to within 0.0003s per minute. Nixie tubes require a high voltage to operate. In Nixie clocks there are different techniques used to generate this voltage. The Nocrotec V600-NT Nixie Clock uses the most innovative power supply we are aware of. It is a highly efficient, super low noise switch mode power supply in a very small shape (inside the case of course). The clock is not multiplexed, but the 6 Nixie tubes are driven directly.

TUBES
This clock uses the beautiful Z5660M made by RFT! A popular tube with a great digit height of 1.2" (30 mm). The shape of the numbers of the Z5660M Nixie tube has been considered to be one of the most beautiful ever made. Long life and stable operation are the benefits of these tubes.

FEATURES
Digit height: 1.2" (30 mm)
12/24h mode
Date in configuration DD.MM.YY or MM.DD.YY
Leading zero suppression: The leading zero can be blanked or shown
Cross fading: different modes to fade the digits from one number to the next
Alarm clock
Power down mode: tubes and supply can be totally switched off for a user programmed period in order to save energy and increase life expectancy of the tubes
12VDC input voltage
Wall power supply for worldwide use is included
Time is battery buffered when no line power is available; battery will last for more than 10 years
User settings are always stored
Tubes are not soldered but mounted in sockets, that means they are easy to replace
Case is made of brushed stainless steel; bottom plate and all screws are made of stainless steel as well
Security protection against contact of the high voltage. The high voltage can not be touched also if a tube is pulled accidentally
DIMENSIONS Overall dimensions (incl. tubes):

9.9" (250 mm) long
3.1" (80 mm) deep
3.4" (86 mm) high
Tubes:
Diameter: 1.2" (30 mm)
Visible part is 2.25" (57 mm) tall from the glass surface to the top of the tube
Digit height is 1.2" (30 mm)
Case:
9.9" (250 mm) long
3.1" (80 mm) deep
only 1.1" (27mm) high
Links