IN14 6 Tube Nixie Desk Clock
eBay seller uniasia82 / $111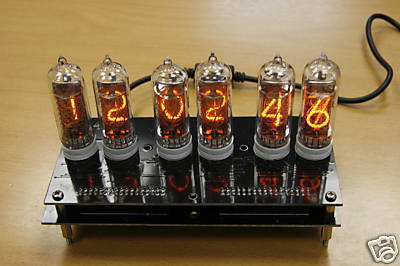 Here is a great little clock from eBay.  It is a 6 digit, ON-14 based nixie clock.  It appears to be built in two layers - the bottom performing the time keeping functions and the top one simply holding the display.  The PCB has a shiny black finish which adds a nice contrast to the display.  While you could probably build or find an enclosure for this device, I would leave it open as it is right now.
The nixie clock is powered off of an external power supply so there is little to no risk of shock from this design.  However, since the displays are still running at 180v, you probably would still get a bit of a shock if you grabbed the wrong place.  That is just my oppinion, you could probably still find a way to do more harm to yourself if you tried :)
From the auction:
IN14 6 Tube Nixie Desk Clock
Description:
This is Fully Assembled and Tested Nixie Clock with 6 Pieces IN14 NOS Tubes.
* Fading Nixies:  cross fading from digit to digit
* User Selectable:  12/24 hours mode
* Digit Height:  Approx. 2cm
* Brand New!
* Power by: DC 12V AC Wall Adapter (mains AC 110 ~ 240V) Not Included.
   remarks:  Extra Price for DC12V AC Wall Adapter : USD9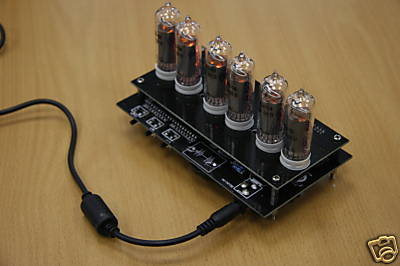 Links: