By NixieKits.eu - 159 EUR (Kit, Tubes, Assembly)
+ 15.50 EUR (Internal Receiver)
+ 49.58 EUR (External GPS Transmitter)
---
It's been a while since I've done a review so let's jump right in. Today, we have the Laura nixie clock from NixieKits.eu. It has a fraternal twin brother named Lars, which is nearly identical in terms of features and electronics but uses a different enclosure and tube type. The Laura clock uses IN-2 tubes (small, round) while the Lars clock uses the rectangular IN-17 tubes. Both clocks feature a parsimonious enclosure design that focuses on the tubes and little else.
The review will focus on the Laura design but the basic features are common across both designs. Additionally, this review will include the Wireless GPS kit, which is available as an add-on for these clocks (and others).
The stand out feature of these clocks is the size. There are some comparably sized clocks on the market (Cogwheel's IN-17x7, Nocrotec's Little Blue Something) but there aren't many. Most people want large IN-18, B7971, etc., tubes and that leaves room for smaller clocks in the market. Additionally, the fact that these can sit on your desk and not be the center of attention can be a large plus. Both clocks are USB powered and make a great companion to your workstation. (I keep the Laura immediately below my external monitor.)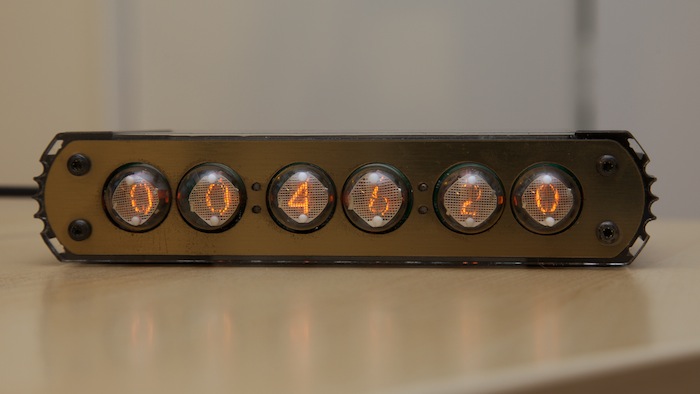 While we're on the topic of design and size – this clock is unquestionably Jürgen's design work. The Laura clock uses a similar structure to his original IN-12 design with the clear top, extruded aluminum sides, and decorative gold colored faceplate. The Lars design uses a solid black aluminum enclosure a copper-finished faceplate. (In fact, the Lars design looks like it would be perfect as part of a computer mod or on the dashboard of a car.)
Moving on to the tubes. Both clocks use petite tubes which have some advantages. They are generally easier to get replacements for and they cost less. I generally suggest getting replacement tubes asap after buying a clock and getting a spare set of 6 for either of these designs will be relatively easy on eBay.
The tubes themselves are similar in digit size with the obvious difference being the shape of the glass envelope. On the round tubes (IN-2), the numeral 5 is an upside down 2 like on many Russian tubes. The mesh is a little bit thicker than on most tubes but this doesn't make them difficult to read. On IN-17's, the numeral 5 is a distinct character. In both cases, the tubes suffer somewhat from a viewing angel problem – there are posts at the top and bottom of the tubes that hold the digits in place and they somewhat obstruct the display when you're not looking at the tubes head-on. I can't fault the clock design for this; all devices that use these tubes suffer from this design. The easy solution is to angle the display up (if it is on your desk) or mount it close to eye-height.
As far as tube brightness goes, I haven't had any problems reading the tubes in a brightly lit room. They may not be a large as bright as IN-18's, but these tubes don't have any readability problems. (I can't say the same for my LED clock, actually…)
The clocks feature a backlighting option that looks like an evolved option of Jürgen's previous designs. The backlighting has always been a separate menu for the Nixie Kit designs back to the IV-12 Jenny VFD clock. I don't think there are technical reasons for this but it does make manipulating the backlight color and display effects easier because it reduces the probability that you will accidentally set the time, alarm, etc.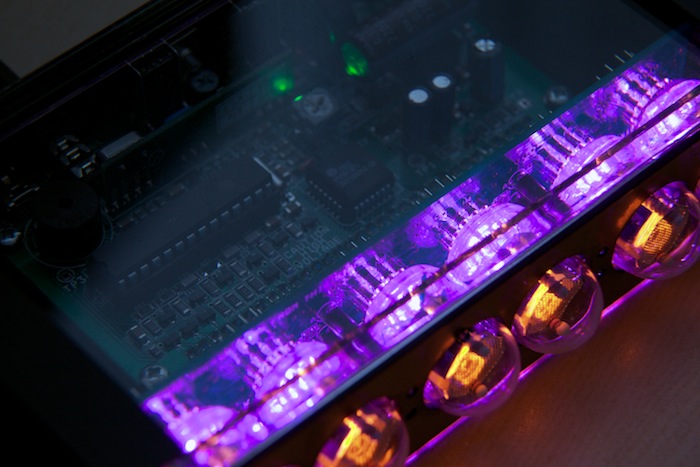 Color effects – this clock supports a few different color effects. The user can manually set the color via a special menu or it can rotate automatically. All of the options can be set via a dedicated menu accessible via the DST button. For example, you can have the clock display a constant cyan color or slowly rotate through all color options. Interestingly, the color can be set on an hourly basis. So, you can have orang at 12:00, blue at 13:00, green at 14:00 etc.
Tube display effects – of course a nixie clock wouldn't be complete without some nifty display effects and these clocks are no different. This clock comes with a built in slot machine effect to prevent cathode poisoning. Additionally, users can enable/disable digit fading to smoothly transition between digits.
Tube saver mode – most new nixie clocks have the ability to turn off the display at a given time. The goal is to have the display off when you're not in the room. But what about when you have the clock at your office? NixieKits.eu has a cool solution to this – you can specify a different off time for the weekend. In other words, you can have the clock on from 8AM-5PM M-F and off all weekend. This is a cool little feature that I don't want to get lost in the review. Alternately, if you have the clock at home, you can have the clock on over the weekend as well (or even only during the weekend.)
Photos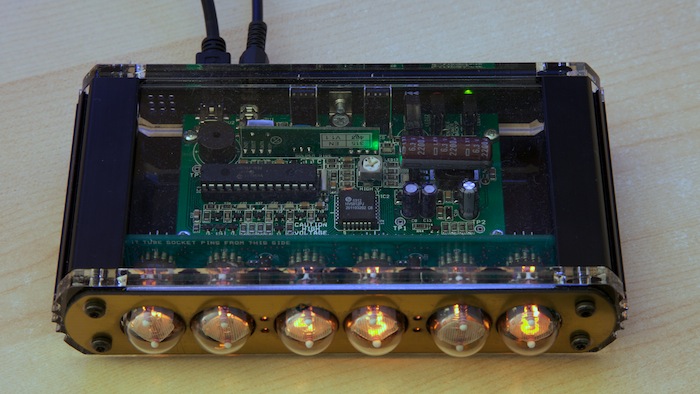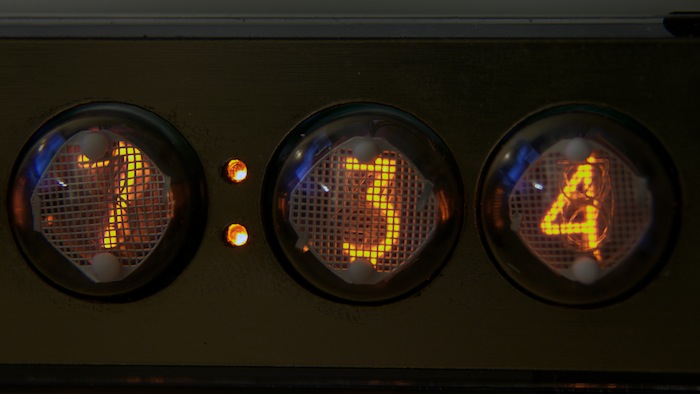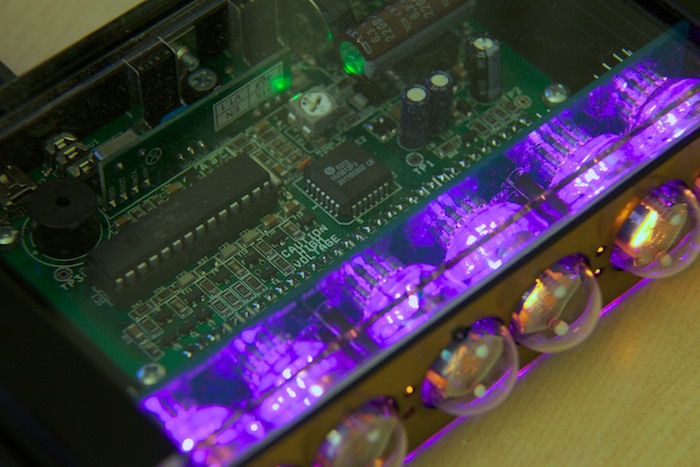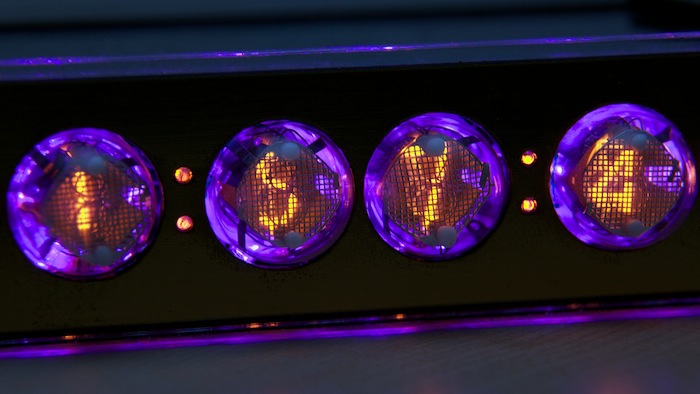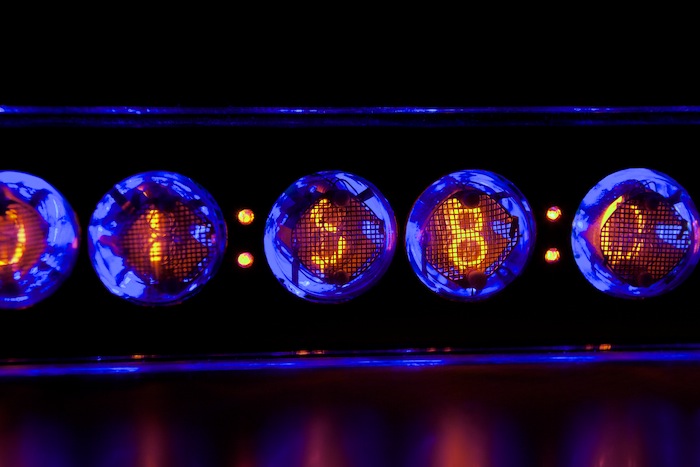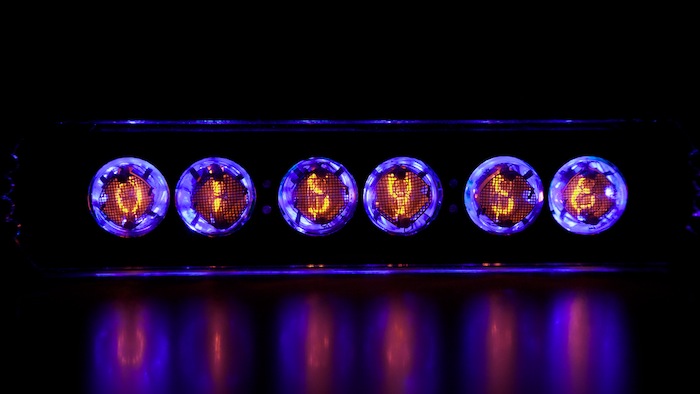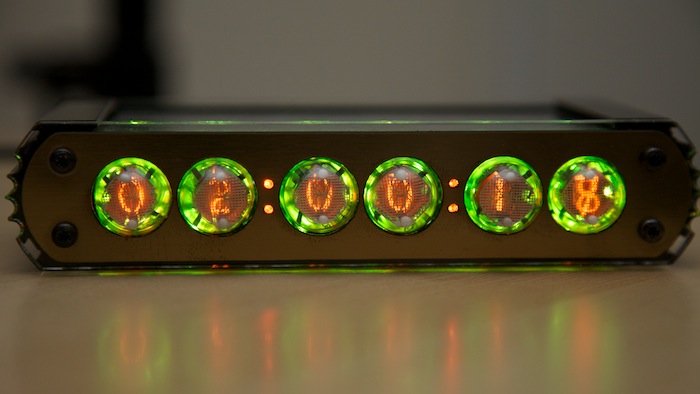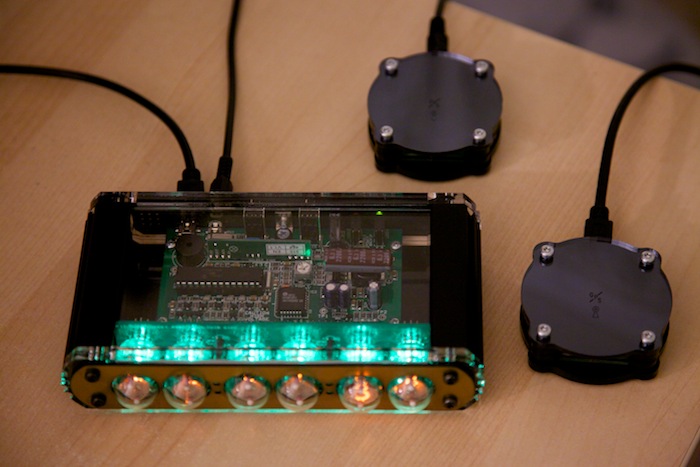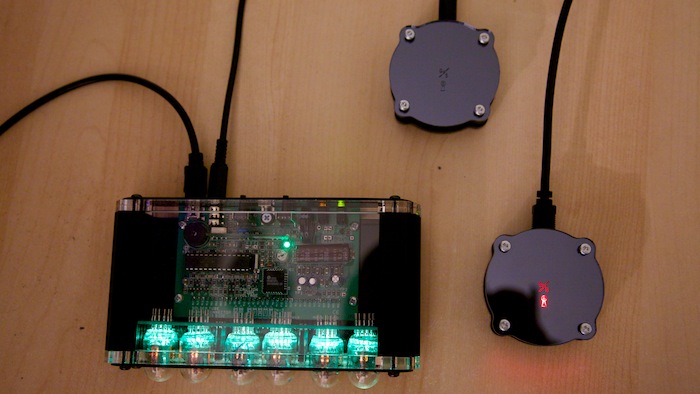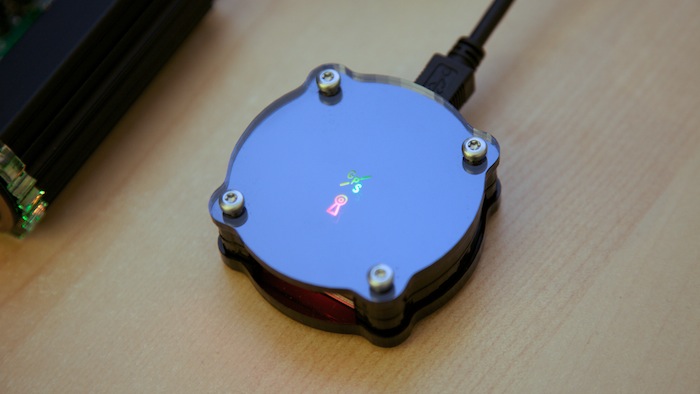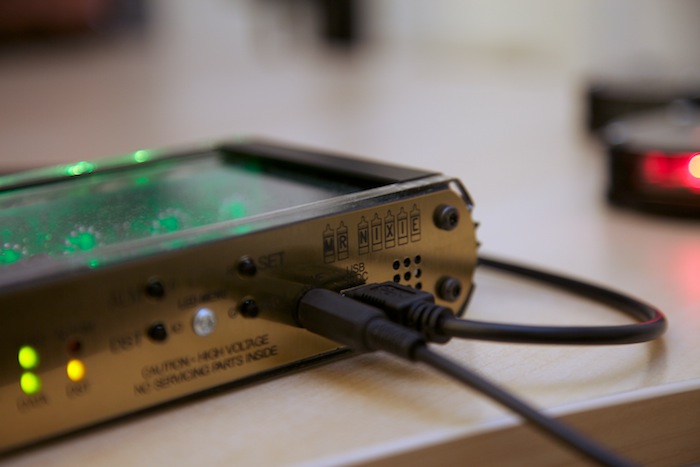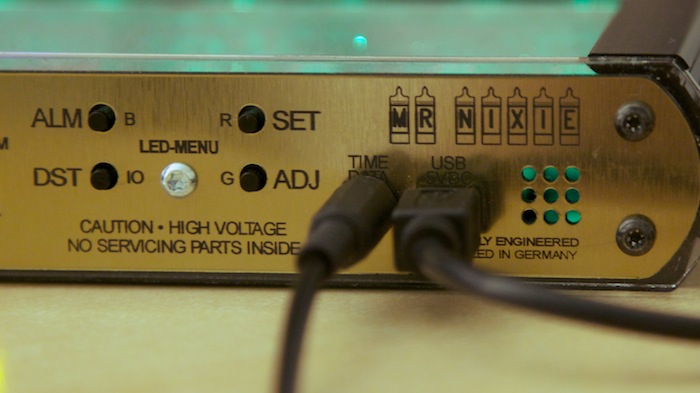 Features
Hours, Minutes and Seconds display
3 x 2 multiplex for less tube noise and higher brightness; based on the modern HV5812 Supertex high voltage driver
12 or 24 hour modes
Uses a Quartz Crystal Oscillator as the timebase with adjustable accuracy
Programmable leading zero blanking
Date display in either DD.MM.YY or MM.DD.YY or YY.MM.DD format
Programmable date display each minute or selectable with a single button push
Scrolling display during fading-in the date or standard display change
Alarm with programmable snooze period
Optional DCF / WWVB / MSF / GPS sync. with status LED; prepared for fitting the ASK receiver module from the "Wireless GPS connection"
Dedicated DST button for easy switching between DST and standard time
Super Capacitor backup keeps time during power outages for more than 24 hours.
Simple time setting using two buttons
Five programmable column LED settings (Flashing AM/PM indication, illuminated AM/PM indication, both flashing, both on, both off)
Seconds can be reset to zero to precisely the set time
Programmable night mode - blanked or dimmed display to save tubes life or prevent sleep disturbance
Rear Indicator LEDs dim at night to prevent sleep disturbance
Weekday aware "Master Blank" function to turn off the display on weekends or during working hours
Separate modes for column LEDs during night mode
Standard, fading or fading + scroll-back display modes as an eye-catcher
"Slot Machine" cathode poisoning prevention routine, disabled during night mode, selectable time
Programmable RGB tube lighting – select your favorite color palette
729 colors possible. Have a different color of your choice every hour or auto-changing colors with variable speed
High efficiency "ultra cool" HV converter, power consumption less than 2.5 VA even when RGB lighting is fully turned on.
Powered from a single USB outlet (from your PC or a cellphone charger)
All user preferences stored to non-volatile memory
Links: