Recently, Pete launched his new Nixie QTC format for mid sized tubes. Let's take a look at what he's got:
To begin, QTC stands for "quick tube change." The QTC design is an interesting clock kit with the ability to easily replace tubes that previously were hard wired (such as an IN-8-2, Z5070M, or ZM1210). He does this by putting them on a mini PCB with a connector on the back so the tubes can easily be swapped out. Nixie tubes do eventually wear out and this is an elegant way to replace them. One of the advantages of having all of the tubes on mini PCBs is that the main board can support multiple types of tubes with no configuration.
The nixies are drive in a multiplexed display mode. The tubes are driven in a 3x2 multiplex and generate little noise and no perceivable flicker.
This device also supports GPS synchronization making it one of the most affordable clocks with this option.
The following features are standard for the kit version:
6 X (your choice) Nixie tubes, with 18mm digit height
6 X Tube cell components for mounting the tubes
All transistors, resistors, capacitors, ICs, diodes
2 X Neon bulbs for hours:minutes:seconds separators
Double sided, plated - through - hole PCB with red solder resist.
Fully pre-programmed PIC microcontroller, with socket
Piezo alarm sounder
RGB LED Tube Lighting Pack
Kit with IN-8-2 Tubes:
http://www.pvelectronics.co.uk/index.php?main_page=product_info&cPath=1&products_id=72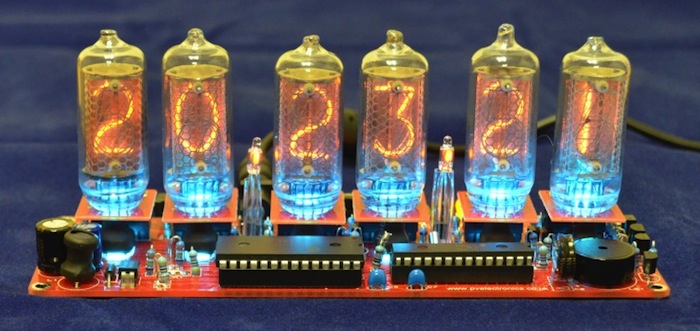 With IN-14 Tubes:
http://www.pvelectronics.co.uk/index.php?main_page=product_info&cPath=1&products_id=71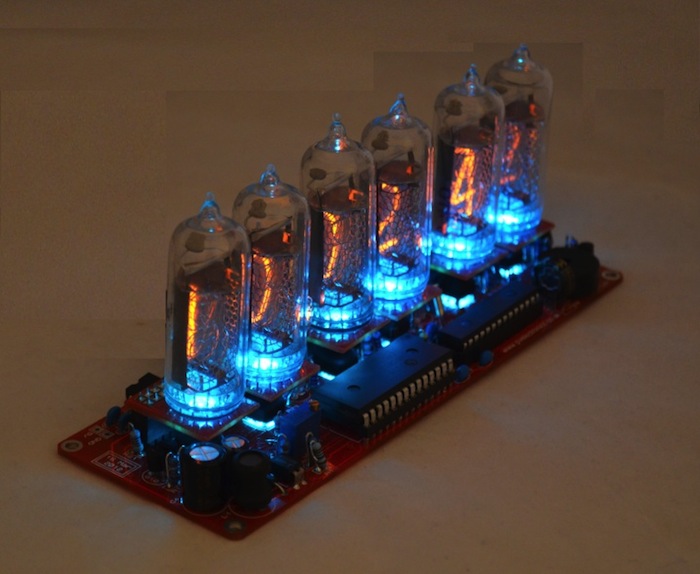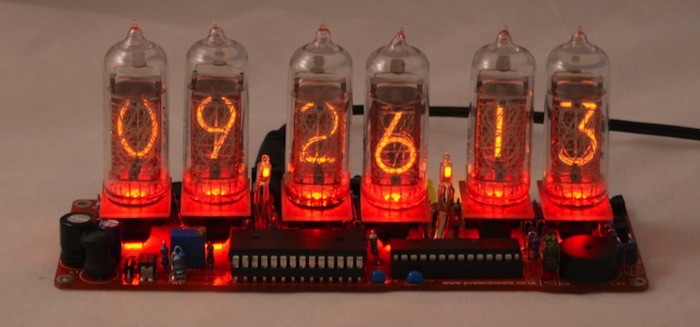 Aluminum case:
http://www.pvelectronics.co.uk/index.php?main_page=product_info&cPath=3_13&products_id=78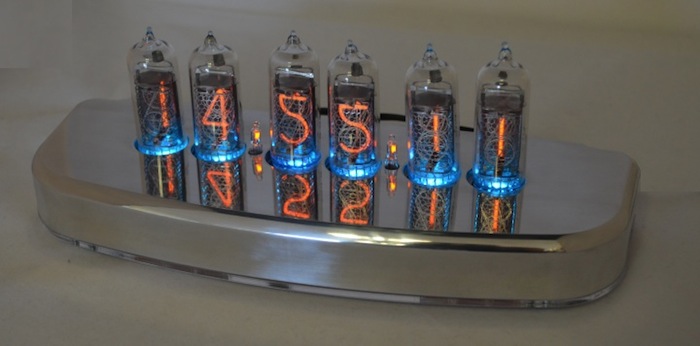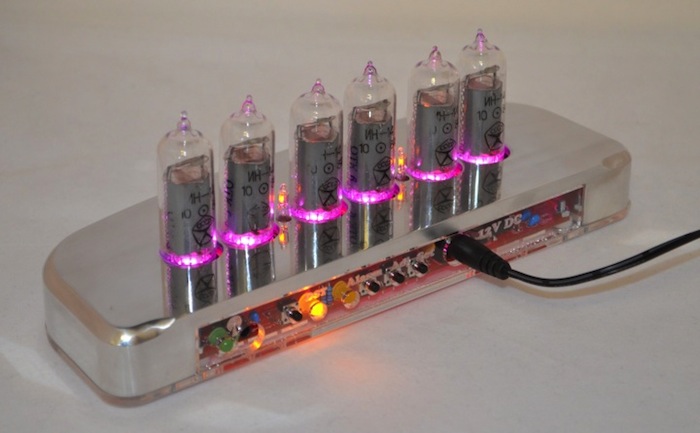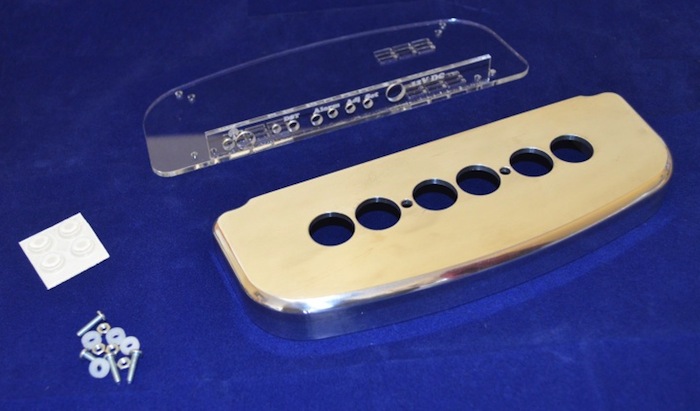 Other Features:
Hours, Minutes and Seconds display
12 or 24 hour modes
Uses a Quartz Crystal Oscillator as the timebase
Programmable leading zero blanking
Date display in either DD.MM.YY or MM.DD.YY format
Programmable date display each minute
Scrolling display of date or standard display
Alarm, with programmable snooze period
Optional DCF / WWVB / MSF / GPS synchronisation with status indicator LED
Dedicated DST button to switch between DST and standard time
Supercapacitor backup. Keeps time during short power outages
Simple time setting using two buttons
Programmable leading zero blanking
Five programmable neon colon settings (Flashing AM/PM indication, illuminated AM/PM indication, both flashing, both on, both off)
Seconds can be reset to zero to precisely the set time
Programmable night mode - blanked or dimmed display to save tubes or prevent sleep disturbance
Rear Indicator LEDs dim at night to prevent sleep disturbance
Weekday aware 'Master Blank' function to turn off HV/ tubes on weekends or during working hours
Separate modes for colon neons during night mode
Standard, fading, or fading + scrollback display modes
'Slot Machine' cathode poisoning prevention routine
Programmable RGB tube lighting – select YOUR favourite colour palette
729 colours possible. Have a different colour of your choice every hour, or autochanging colours
Not AC frequency dependent – works in all countries
All user preferences stored to non-volatile memory