$549 USD w/GPS and Case
Video Review:
Text Review:
Let's start with a story.  The Four Letter Word machine was invented in 1973 by Raymond Weisling.  The device was simple – it used 4x B7971 tubes to display random for letter words.  Of course, the draw to a device like this is that occasionally, one of the results would appeal to the prurient interests of a viewer.  This was not lost on Playboy who actually featured one of Ray's creations in a 1973 issue.
Around 2006, Ray apparently decided to revive his creation and start selling them through his former website, zetalink.biz, as kits for hobbyists.  Unfortunately, he did not actually ship all of his orders and appears to have scammed several members of the nixie community out of several hundred of dollars each.  On list of people who never received a unit were Peter Hand and Jeff Thomas.
Pete had purchased one of Ray's kits to give it as a gift for his daughter.  After waiting for a year and a half, it became apparent that he was not going to get the device and so he decided to engineer his own version.  In fact, he made two versions – a B7971 version (that also supports the planar neon ZM1350 tubes) as well as a smaller VFD version (see more here.)
In the last year, Jeff modified Pete's design (with his permission) and added features like a GPS time base and a nice enclosure (designed by Jürgen Grau).  Now, 38 years after the original Four Letter Word machine was released, you can buy a complete device, including tubes, from a reputable seller.
Okay, sorry for the long story.  Let's get to the review.
The device itself is shockingly small.  Every component is surface mount and Jeff went though great lengths to make this this device small.  The device is only about 3/4 inches thick or roughly an inch if you include the rubber feet.  The PCB is a slick bright red with white silkscreen printing and all of the internal components are visible.  The case has Jürgen's trademark sandwich design and rounded corners for fasteners and rubber feet.  Ultimately, users are drawn to the tubes and not to the PCB but for those who really like to tinker or see how things work, everything is there for you to see.
The settings on the clock are adjusted one of two ways.  Some functions, like setting the time and tube brightness, are set via menu options.  There are MENU and SET buttons on the back that make this process pretty intuitive.  There is also a set of dipswitches on the device which control things like the frequency of obscenities as well as disables the time display and what transition effects are used between words.
The actual function of the GPS received in this device is a little bit different from some of Jeff's other designs.  With something like the NixiChron, the device captures the time from the GPS signal and you program in a time zone and DST offset.  With this device, you set the hours and the device captures the MM portion of the signal to provide a steady time base.  I like this solution simply because it is easier than programming in the time zone and DST offset, DST start dates, and DST end dates.  At first it took a little getting used to but since filming the review, I can appreciate the logic of this solution.
As far as the dictionary goes, there are basically three classes of entries.  There are basic four letter words, acronyms, and obscenities.  After watching the device, it appears that some of the words may not actually be in English (I had to look a few of them up to confirm this).  As far as the rudeness goes, you can choose anything from never sear (called "swear like a nun") to frequently (called "swear like a trooper").  Switching between modes is as simple as flipping a switch on the back.
Lastly, and this is hard to quantify, is the uniqueness factor of the device.  I've been a clock collector for a while and my office is full of nixie clocks.  Still, this device always commands my attention.  I actually had to move it off of my desk because I spent more time watching it than reading my corporate finance textbook.  Whenever anyone enters my office, this device is one of the first things they are drawn to.
The bottom line:
B797s are getting progressively harder to find.  They cost between $80 and $100 USD on eBay and I can't see them getting cheaper.  There are other devices for the B7971 tubes (like the Mod_6 and Cogwheel System) but this is the only four letter word machine.  If you want one of these, this is probably one of your only chances other than buying one second hand from another collector.  The device may seem expensive at $549 but remember, that $400 of that is for the tubes and the remaining $149 covers the engineering, the enclosure, the GPS receiver and the incredible team effort that went in to this.
Photos: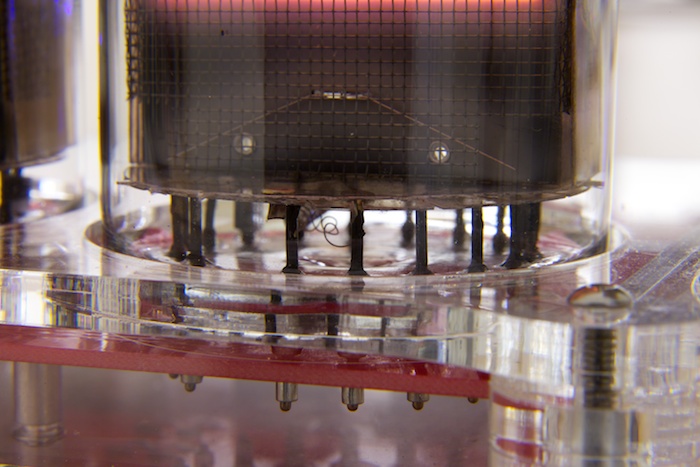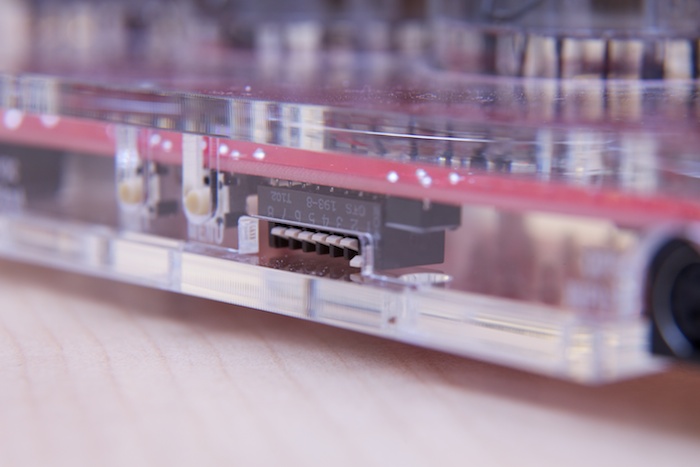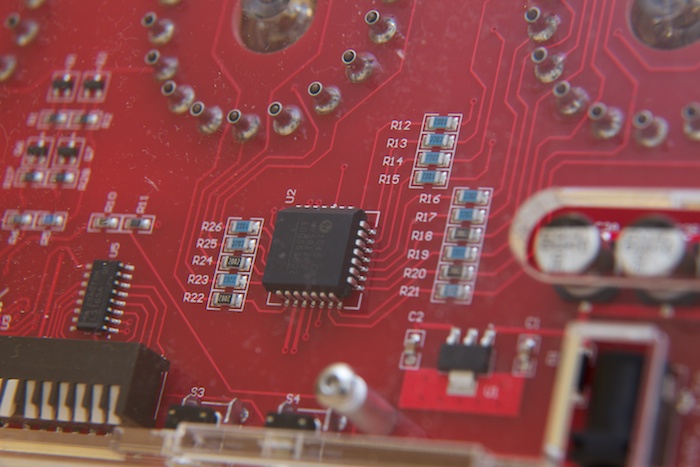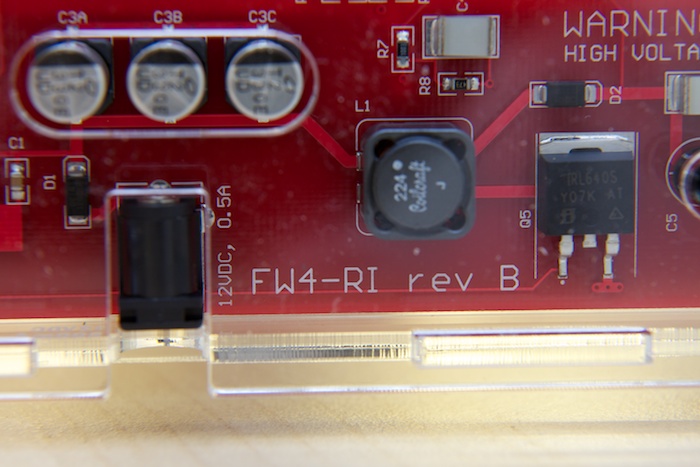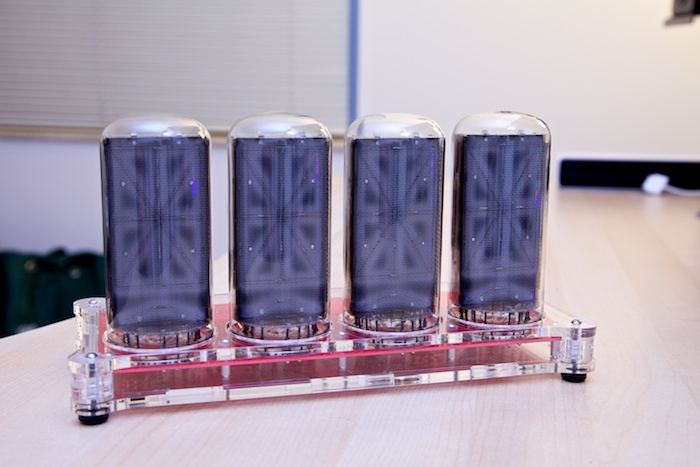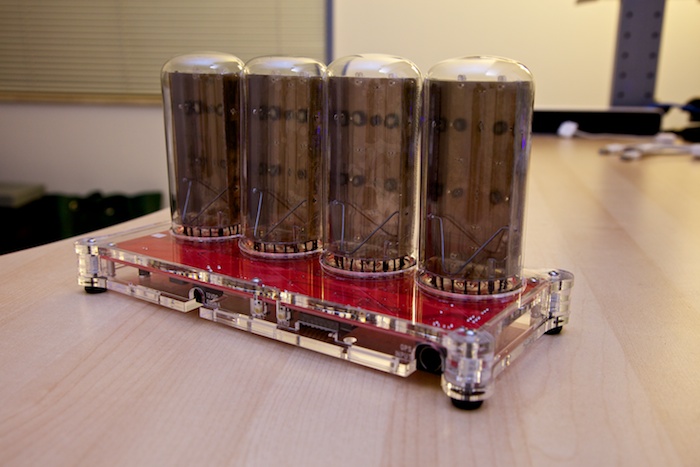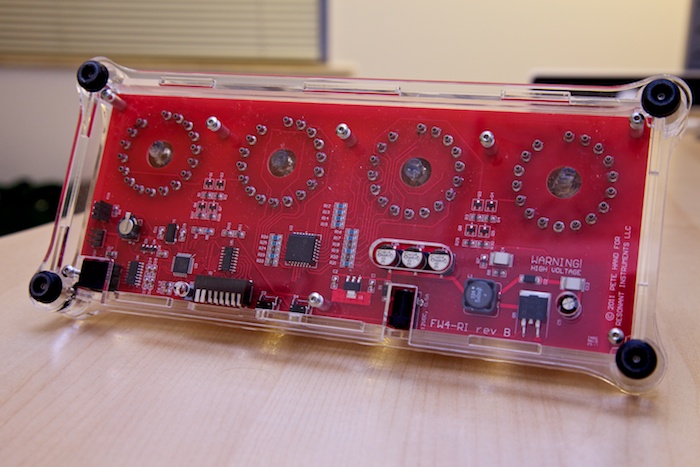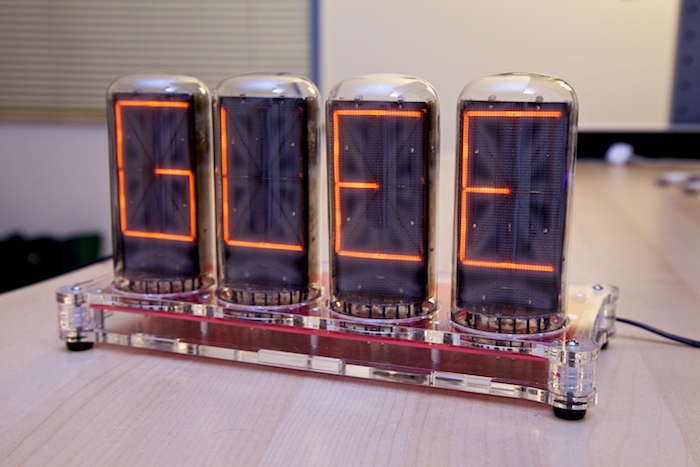 Links: