£69.95 / Kit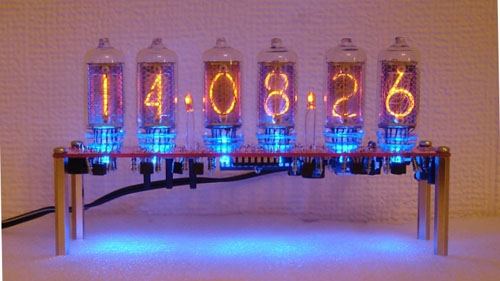 Pete from PV Electronics sent me a link to a really cool kit that he has been working on.  It is a GPS nixie clock kit that is offered in IN-8-2 or IN-14 tubes.  This is a killer little design and all of the hard work is done for you.  All you need to do is assemble it and build a nice enclosure for it (or buy the one pictured below).
Features:
Hours, Minutes and Seconds display.
12 or 24 hour modes.
Date display in DD.MM.YY or MM.DD.YY Format.
Alarm clock feature with programmable snooze (6,9,12 or 15 minutes).
Programmable auto display of date at end of minute.
Programmable Blue LED backlighting. Can follow night blanking.
Uses a Crystal Oscillator as the timebase.
Optional DCF / WWVB / MSF / GPS Synchronisation with status indicator LED.
Supercapacitor time backup for short power interruptions.
Simple time setting using two buttons.
Programmable leading zero blanking.
Calendar function has full leap year calculation up to 2099.
Five programmable neon colon settings (Flashing AM/PM indication, illuminated AM/PM indication, both flashing, both on, both off).
Maintains time during setup mode, eg. When changing between Standard Time and Daylight Savings Time.
Seconds can be reset to zero to precisely set the time.
Programmable night time mode - tubes blanked or dimmed to extend tube life / prevent sleep disturbance.
Separate modes for colon neons during night time mode.
Fading digit mode or standard change of digits.
'Slot Machine' cathode poisoning prevention routine.
All user preferences stored to non-volatile flash memory.
Useful tube-test routine on cold startup.
Night mode override with 1 button press. Customisable override period.
LED backlights can be permanently disabled in software if you prefer, or not installed.
All through-hole components. No difficult Surface Mount Components.
Tubes INCLUDED with this kit.

What's Included
6 X IN-8-2 Nixie tubes, with 18mm digit height
All transistors, resistors, capacitors, ICs, diodes
2 X Neon bulbs for hours:minutes:seconds separators
Double sided, plated - through - hole PCB with red solder resist.
Fully pre-programmed PIC microcontroller, with socket
6 X blue LEDs for tube backlights
Piezo alarm sounder
All electronic components are provided, except power supply. WWVB / DCF / MSF / GPS receiver not included but available in the PV Electronics store.
Optional Enclosure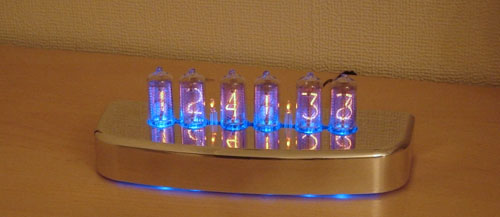 Links