By David Forbes / Cathode Corner
$395 (for sale as of 5/1/2009)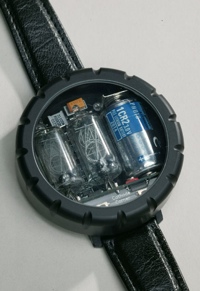 This watch was inspired the Jeff Thomas Nixie Watch. It uses an entirely different design - tubes and power supply.  It looks a little more like a watch than the other design but I prefer the clear plastic case on the other one.  Regardless, this is an amazing feat of engineering.  I'd love to own one of these.
FTA:
The Cathode Corner Nixie Watch displays the time on nixie tubes, which are quaint neon display tubes once used in calculators in the dawn of recorded history (1969). It is a two-digit wristwatch designed for everyday use, being water-resistant and rugged.

The watch requires no button pushing to operate - it shows the hours, minutes and seconds in sequence at the flick of the wrist.
Links:
Description: http://www.cathodecorner.com/nixiewatch/index.html
Purchase One: http://www.cathodecorner.com/nixiewatch/order.html