Sputnix / Greg Powell Sputnixie.com
(No longer for sale)

I found this great design and wanted to share it with the community.  I really like this design - it is clean and intuitive.  Besides, it has a cool name :)  It is based on Russian IN-12b tubes that are directly driven via 8 shift register.  There are six brightness levels and auto dimming based on time is used to prolong the life of the tubes.  One other notable feature is that it also has a connection for an RS-232 interface that allows the user to upgrade the firmware without too much difficulty.  Setting the clock is accomplished using an 38KHz universal remote.  Other notable features are an on board temperature sensor and a light sensor.
Sadly, this device is no longer for sale.  I really like this design and it is one of the cleanest end-view designs that I've seen.  Greg does include schematics and firmware for download for those adventurous enough to build their own.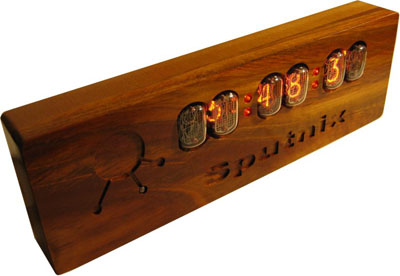 Features:
Digits fade.
12/24hr display mode (leading zero blanking in 12hr mode).
Boost topology switch mode power supply.
Real time clock with capacitor backup.
Configuration settings saved during power-down.
Firmware is boot upgradable.
RS232 compatible interface.
Simple IR remote control user interface.
Ambient light detection for auto brightness adjust.
6-level brightness adjustment in both light and dark ambient (36 configurations).
Auto on/off with input for PIR motion sensor.
Dry contact relay output.
Temperature display.
Alarm with buzzer/relay activation.
15 minute snooze
Momentary display of alarm set time.
Momentary display of firmware version.
Tubes are socketed for ease of replacement.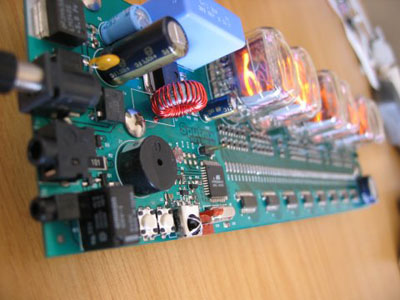 Images and text used with permission.  Copyright Greg Powell / Sputnixie.com