eBay seller Turbo_Hobby emailed me to show off his newest creation -  a 4 digit IN-12 nixie clock that he has been working on.  Bidding is up to $19 and ends in 7 days.  It comes fully assembled and ready to use. Since this uses IN-12a tubes, the "5" digit is actually an upside down "2".  Presumably the designers did this to save the effort of forming one more digit, however small of a savings that would be.  I really like these tubes because of that little quirk. it gives them more of a personality.
He suggests using this as a novelty desk clock...but given the form factor, you could easily mount this in a small photo box frame or other gadget.  I do have one item from this seller, a single digit clock, and I've been happy with it so far.  Go check out his auction at the bottom of this article.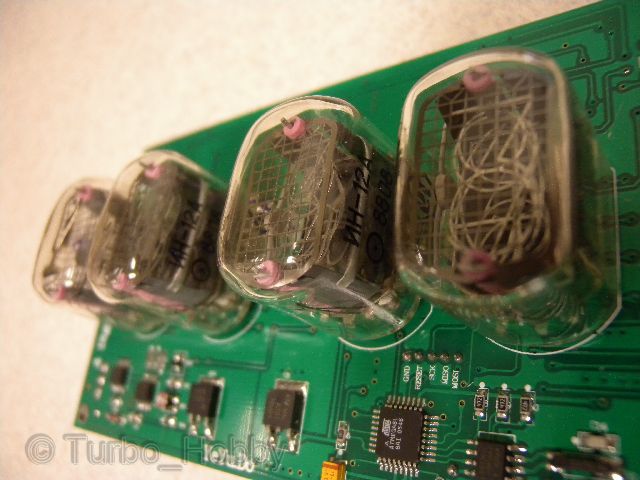 Description
This is a fully assembled four digit nixie clock with tube saving function. The clock is assembled with high-quality components and accurate clock pulse generator. Digits displayed are large and bright, which is good for a desk clock. Time will be kept by a lithium battery (soldered on board) when it is unplugged. Please refer to the video below or contact me for other details.
Video
Features
4 NOS Soviet IN-12A nixie tubes, bright even in daytime
3 Sets of Alarms
3 Sets of programmable tube saving mode to extend tube life time (Tubes are physically turned off by MOSFET during those periods)
24 hour mode
Stores both time and Date
Ultra easy control with 4 buttons (set, select, up and down)
Standard DC 12V 3.5mm inner positive power supply

150-200mA working current
10mA only at tube saving mod (all tubes are off)

Colon displayed by vantage neon bulb as well
Reliable high quality components

Real-time Clock DS1302
Accurate SMD Clock Oscillator
Murata (Japan) SMD Clock Trimmer Capacitor
ATmel M8 Microprocessor
SMD CR1220 Backup Battery
High Quality Resettable Fuse
ultra slim SMD Alarm Speaker * 2
Links