Cogwheel Circuitworks has a new home and it is cogwheelcircuitworks.com.  The site officially went live this morning and the new seven digit IN17 nixie clock is for sale.  Go check it it!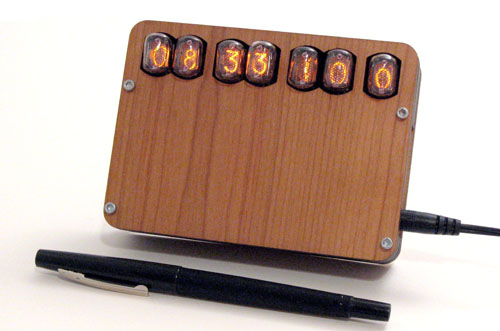 Features:
7 tubes - This is unique to any production nixie tube clock; It allows time to be displayed accurate to one-tenth of a second. The rapidly changing display adds a great deal of visual interest
Accuracy – Utilizing a relatively new low-cost temperature-compensated crystal oscillator, time-keeping is accurate to less than 1 second per day
Battery-backup – Time, Date and configuration is maintained across power failures
Month, Day and Year – Can be periodically displayed
Daylight Savings Time – Automatic adjustment for daylight-savings time rules with programmable rules for many regions
Alarm with snooze – Alarm clock with snooze function
USB Interface - Allows control and upgrade of firmware PC and upgrade of firmware
Tube-saver – Daily display shutdown / start-up times
Periodic Chime – On the hour, half-hour or quarter hour
Cross-fade Effect – Next digit is lit before previous digit extinguished
Transition effects – Fade down/up, 'Slot Machine', Curtain Wipe, Random Wipe
About Cogwheel Circuit Works:
Cogwheel Circuit Works produces embedded electronic devices serving the electronics enthusiast, DIY, and Maker communities. Whenever possible, projects are released as open designs with no restrictions other than you must give us credit.
Links