by Turbo_Hobby
Price: 35 SGD ~ $25 USD / eBay buy-in-now
I just found a great little one-digit nixie clock on eBay.  The designer did a great job of fitting the timing circuitry, the power supply and display driver on a business card size PCB.  The majority of the components appear to be surface mount so you could easily repackage this in a more polished display.   For $35, this is also probably the cheapest nixie clock you can buy.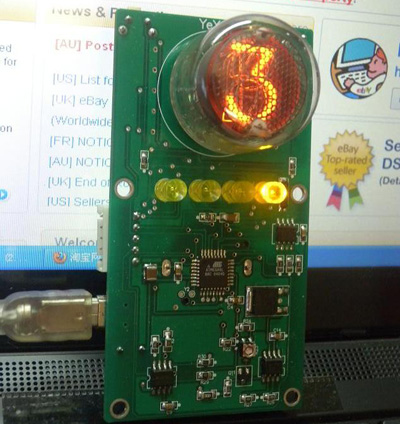 The clock itself works like most single digit Nixie clocks.  There are four LEDs across the bottom representing HHMM.  When the first light flashes, the tens digit of the hours is shown, then the units position of hours, then tens digit of minutes, and finally the units digit for minutes.
One other notable attribute to this clock is the fact that it is USB powered.  For most clocks this isn't practical as the current is limited to 500mA on USB but it is more than sufficient for something this size.  The designer did a great job integrating the power supply on the board and even managed to add a battery backup.  It appears to be a mini-USB connector but I need to verify this with the seller.
No information is given about the time keeping mechanism.
The tube is an "SZ-8(QS30)" according to the YouTube Channel.
There are two downsides that I can see to this auction.  First, the seller has 0 feedback.  I am bidding on one right now (as opposed to buy it now) and I'll report how it goes shortly.  Second, the clock doesn't come with any enclosure.  It is highly unlikely that you will be seriously harmed touching this in operation, but picking up this clock while in operation might give you a bit of a shock.  Additionally, if it comes in contact with any metal objects while in operation, it may damage the device.  This is true for all exposed PCB clocks, but it is worth pointing out.
All of the images and videos are provided by the seller and used with his permission.
If it is half as good as it looks, the seller should raise the price by 100%.
Video
From the auction:
16mm digit, bright even in daytime
4 LEDs indicating digit position, can be easily turned off
Powered by USB port, with backup battery
24 hour mode
Two buttons only (one for LEDs, one for setting the time)
Made by high quality components
Links