by Dieter Wächter / Nocrotec
$375 - $399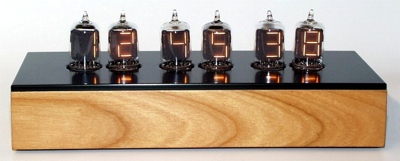 This device easily is one of the most attractive tube clocks for sale. Dieter clearly has a talent for not only the engineering perspective, but also for the aesthetics. Sadly, this clock is no longer for sale on his website or thought his eBay account. This clock comes in two variations: with rounded tubes and with flat top tubes. The flat top tubes are DA/DR 2000 tubes while the rounded ones are DA/DR 2010 tubes. DA = Apollo. D = RCA.
More photos links after the jump
One of our Facebook fans, John, shared a link to this all-transistor clock kit.  That's right, this is a kit: 194 Transistors, 566 Diodes, 400 Resistors and 87 Capacitors. The PCB + components is $199 while the PCB alone is $100.  For the amount of engineering that went in to this, it seems like a very reasonable price. (Besides, it isn't like I could engineer one of these.  It isn't exactly an Arduino + LCD) While you're at his site, be sure to check out his TTL clock, microprocessor clock and calendars too.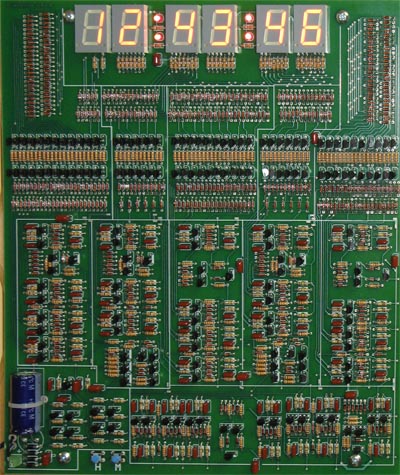 If you're thinking about getting on of these, you can view the assembly manual here: http://transistorclock.com/tranmanual.pdf
Images and text use with permission from KABtronics: http://transistorclock.com/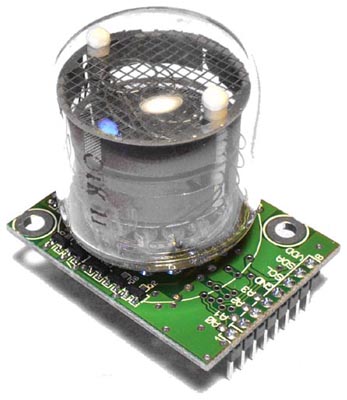 One of our Talk users, Greyfox, shared a link to a really cool product that I had never seen.  It is called SmartNixie by Tayloredge and it it solves multiple challenges at once: It provides a simple mounting solution for nixie tubes and it simplifies device control by using the I2C bus.  There are other modules that provide a GPS interface for timekeeping, a stand alone real time clock, and a power supply solution.  Something like this really lowers the barriers to entry for people to tinker in our hobby.  For such a simple solution, their prices seem really reasonable.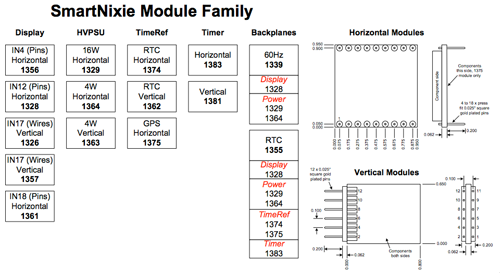 From their site:
The TES SmartNixie is a ready to use display module pre-programmed with several useful operating modes.  The on board processor reads a four position DIP switch at boot up to configure itself as one of 112 possible I2C slaves or any of several special modes such as the I2C master of a digital clock.  Modules are 100% interchangeable so that they may be alternated in the user application to maximize tube life especially when installed into 0.100" pitch socket strips which eliminates the need to solder directly to the module pins (See table at bottom of page).  The ICSP (In Circuit Serial Programming) connections to the PIC16F677  processor are also brought out on the module pins to allow for user programming of the processor flash memory when all DIP switches are in the off position.
http://www.tayloredge.com/storefront/SmartNixie/index.html
Lastly, be sure to look at their gallery. http://www.tayloredge.com/storefront/SmartNixie/Gallery/index.html