Have your clocks featured on TubeClockDB.com
Do you have an eBay store?  Do you sell products directly to end users?  Let us help you launch your products.
TubeClockDB.com is the largest collection of both commercially available and one-off nixie clocks on the internet.  We are averaging 13,000+ page views per month and has a quickly growing audience here and on Facebook.  Our goal is to provide a constant stream of meaningful updates on Nixie Clocks, VFD Clocks, and Numitron clocks.
Our content is focused on three primary subjects:
Nixie Tube Information
Nixie Clocks
Nixie-Related items
We are looking to expand the clocks portion of our site. Specifically, we want to add more user generated clocks / one off creations and we want to add more large scale commercial clocks. If you have something that you think would be a good addition, please contact us.
Product Reviews
We are happy to do product reviews or give feedback for in-design clocks. We do not charge for reviews but you are responsible for product transportation and return.  Please contact us to arrange shipping.  All reviews are don in a timely manor.
During a product review, we generally photograph and (if applicable) produce a video of the product in use.  This content will be permanently stored here and will be published to our Facebook following as well.  Of the content that is created, we will retain the copyright but you have rights to use any of the content created. In return, you may use our videos, images, or text freely without our permission.
All reviews will include full attribution as well as links to your store, auction, and any other location that is relevant to the review.  (We do NOT use rel="nofollow" for product review links.)
If you simply need assistance producing product images or videos, we may also be able to help. Please contact us for to work something out.
Interesting eBay Find: RYGB ITM2M
I found this interesting square gas discharge tube on eBay.  Based on the data sheet and the info that I can find on NEONIXIE-L, it appears to be an element of a large display.  I can't find much more than the information below.  When the shipment arrives, and I figure out how to drive them, I will post more photos and data.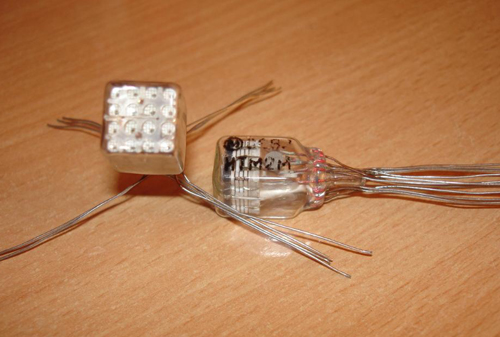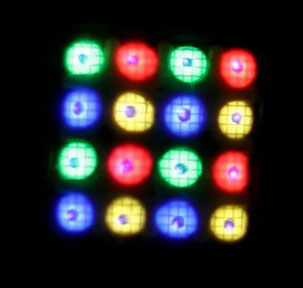 Links
David Forbes' nixie watch is finally back on sale.  It has been out of production for a while David re-engineered the watch to work with more modern components.  Along with the new watch is a new site design along with more photos and diagrams.  Be sure to check it out.  If you get one, let me know!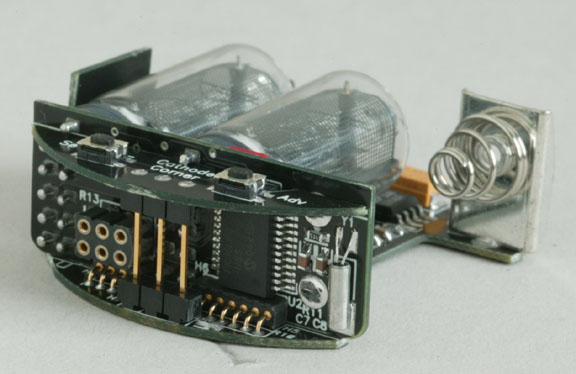 Links
(David was kind enough to release his site info under GPL v2.  Likewise, this article is too)