Details
By ThinGeek (OEM Unknown)
Price $35
This is another gimmick clock but it is well executed and it looks nice. Each HH MM SS display is separated in to its own cube with the controls on the HH. They are tethered with a small wire and the whole device is powered via a mains transformer.  For $35, you can't go wrong with one of these.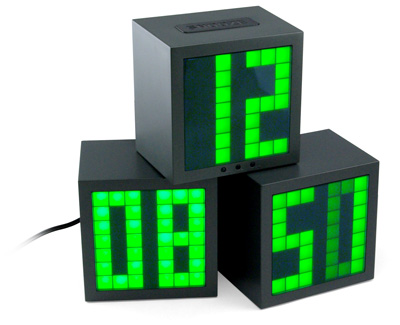 FTA
A customer sent us an email once and she said, 'ThinkGeek? Why can't you make us an alarm clock that has a techie feel but is also stylish?' We pondered the question, drafted some blueprints, built a prototype from pop tarts and LED arrays, and, voila - the Matrix Cube Clock was born. Ask, and you shall receive. Connected by thin ribbon cables, each clock module can be stacked vertically, horizontally or in a pyramid, depending on your mood and the alignment of Jupiter and Saturn's moons.
Dimensions: Each cube is approximately 3.5″ square. 12 or 24 hour format available! Even includes a snooze button. Woohoo!
Buy it now at ThinkGeek.com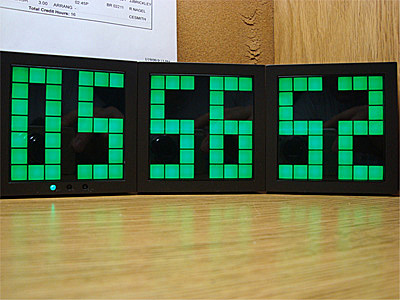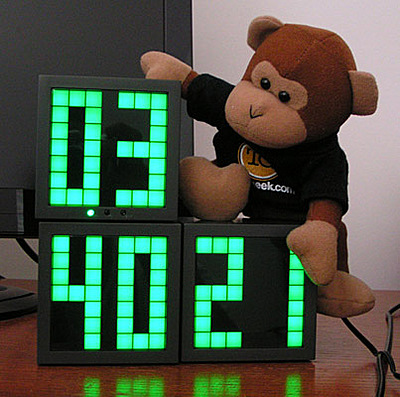 Details
By HP / Agilent - discontinued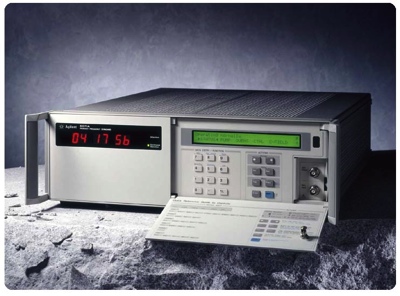 Does anyone want a cesium beam frequency standard?  OF COURSE YOU DO!  That's why you're reading this site.  You like things like that.  Well, I have the thing for you:  The 5071A Primary Frequency Standard.
You can actually find these on eBay for $2k to $10k.  However, in most all cases, you will need to buy a new cesium source for the clock.  I have no idea how much that part costs but I would imagine shipping radioactive material will command a premium on top of the normal UPS / FedEx charges.  I think if I ever got a package like that at work it would make people suspicious.  (But they already know I'm weird.)
Specifications
Performance suited to advanced communications and tracking systems
Frequency accuracy to 5 x 10-13
Long-term stability better than 1 x 10-14
Proven track record in military and commercial applications
Easy to use with automatic start up and intuitive menu structure
Key Points
Performance suited to advanced communications and tracking systems
Frequency accuracy to 5 x 10-13
Long-term stability better than 1 x 10-14
Proven track record in military and commercial applications
Easy to use with automatic start up and intuitive menu structure
http://www.home.agilent.com/agilent/product.jspx?cc=US&lc=eng&pageMode=OV&pid=1000001383%3Aepsg%3Apro&ct=PRODUCT&id=1000001383%3Aepsg%3Apro