Hi,
I wanted to share with you my not yet finished nixie clock.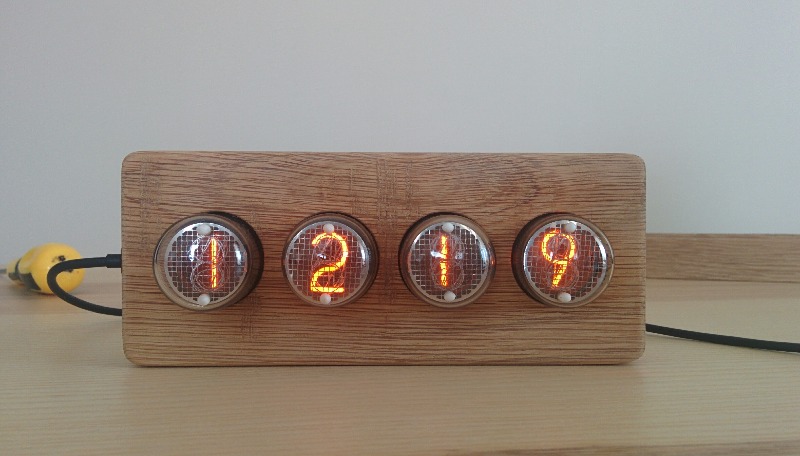 The story:
I first saw a nixie tube clock some years ago and I said I need to have one. Time has passed and it was time to actually start building it and i set some project goals:
front viewing tubes
hardware (cathode drivers) made with jelly beans parts (like Dave from EEVblog like to call them) - this was mostly because prices at the distributors in Romania are high and the availability of some high voltage drivers usually used in projects are simply not available, also it needed to be modular because i haven't decided yet if i want a 4/6 tube clock
it needed to have WiFi simply because i had most of the software written for a different clock which has an web interface.
power in should be 5V so i can power it from a phone charger
nice hardwood case
After i had the goals set i started looking for tubes and i chose the IN-4 because they had a nice size (not to small and not to big) and i found them on ebay sold by someone from Romania so i could source them locally. In the process of searching for tubes i found a nice IN-4 with a find grid from Ukraine, and between the bought tubes i found one that has slightly different digits
For hardware (cathode drivers) i found this blog post
threeneurons.wordpress.com/nixie-power-supply/
which talked about using low voltage drivers with zener clamping and i thought i would give that a try. Driving the cathode drivers was accomplished with the good old '595 shift register. At that moment i have decided i would go with direct drive instead of multiplexing.
Initial HV power supply was based on M. Moorrees MK 1.5 design which worked perfectly for testing but had the minimum input voltage too high for my goals.
After spending a lot of time looking for a design which will allow a smaller input voltage i found Taylor HVPS which were a perfect fit.
Fast forward some 1-2 months for PCB development and production and the first prototype was working, though i have chose to use the ULN2003 with a 47V clamp which for my IN4 was too low and caused a "glow" when no digit was driven, but moving to higher voltage SN75468 with 75V clamp voltage solved the problem.
As for the brains i went with the ESP8266 because i had most of the software already written for a different WiFi clock. While waiting for the brains i designed a nice wooden case in Fusion360 and with some help from NOD makespace the case came to life (oak wood, CNC milled)
anyway i was a nice journey and the clock is almost complete, some small firmware changes are needed and the case still needs to be finished

some pictures/videos with various stages of the build process
goo.gl/photos/xAqDbSyT5gKFA5jb8
Vlad