I'm thinking of designing and building an IN-18 clock and have a choice to make, and wanted to ask people here what they think about a really fundamental question: Direct drive or multiplexed?
There is a lot of folklore that it is better to drive IN-18 tubes directly (meaning not multiplexing them). The reasons given, as far as I can tell, is that if you multiplex large tubes (primarily IN-18 tubes I think) you can get a blue spot, , the life of the tube might be decreased, and the tubes might resonate with the multiplexing frequency.
Blue Dot
I have seen some real data/research on the causes of the blue dot here (thanks Paul for the link!) here:
https://threeneurons.wordpress.com/nixie-power-supply/
and it appears to be the fact that cathodes which are not driven float at some voltage and influence the driven cathode, causing an area of high current density. All open collector/open drain drivers have this effect, apparently, unless you bias the undriven cathodes.
So, here's the thing: clocks like the Spectrum 18 use the HV5622, which is a 32bit, latched, open-drain driver: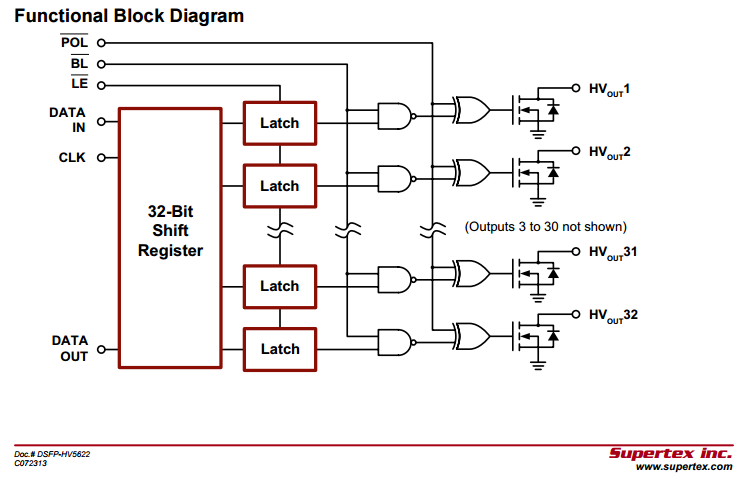 it direct drives the cathodes, but does no biassing. It should therefore have "blue dot" problems.
My understanding: This is a problem with the drive circuitry and not really anything to do with multiplexing or direct drive. Properly biassed tubes should not have a blue dot, and in fact in the multiplexing case, it is a lot easier to provide biassing (only 10 lines to bias instead of 60).
Tube Life
The folklore reason for direct drive being better is that the current is lower and therefore there's less wear and tear on the tubes, especially due to sputtering.
I can find NO data on this question at all. There is a discussion here
https://groups.google.com/forum/#!msg/neonixie-l/gqA6OpDbdXM/raYXUOMK3kIJ
which does nothing at all to clear up the question.
My understanding of this issue: I have seen NO data (meaning I can have no understanding).
Tube singing
Larger tubes can resonate if the driving frequency matches the resonant frequency of some parts of the tube.
Solution: drive the tubes at a different (higher) frequency.
My understanding: Not really an issue, just a code implementation task.
So, here's the question:
So: I'm hoping some of you guys have some pointers to something I can use to decide whether the new IN-18 clock should use direct drive or multiplexed cathode driving circuitry. I have no reason to choose one or the other at the moment.
I can see some advantages to multiplexed driving at the moment:
Dimming becomes easier, because you already have a division of the on time to do the multiplexing, and a sub-division of this time is trivial.
Anti-Blue-Dot biassing becomes easier
I can also see some advantages to direct drive:
Simpler board layout
Less pins used for tube driving (=more pins for perhipherals)
Easier to interface with something like an ESP32 (I want to transcend old-school controllers)
Any inputs?