No eBay APP ID défined in Kunena configurationNo eBay APP ID défined in Kunena configuration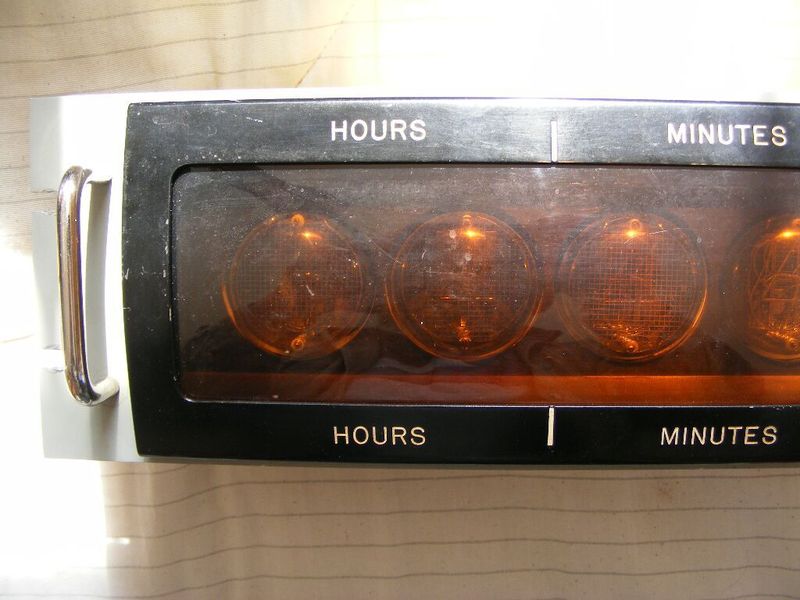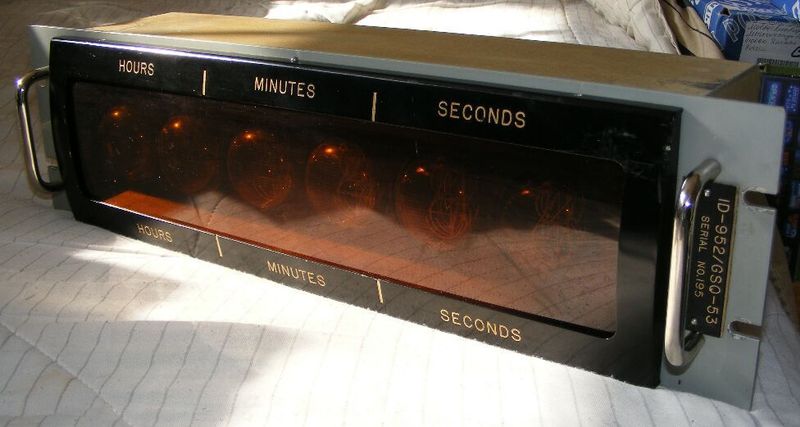 3U 19 inch rack-mount ex-industrial or ex-military 6-digit Nixie time indicator display unit!
With six Burroughs B-8091 large end-view nixies (2" diameter glass; 1 3/8" high characters), including chassis mount sockets, aluminum sub-structure, rack-mount case, and nice black bezel with amber lens. Inside is a turret board with six 51K 2 watt anode resistors (must have been using a very high voltage supply) as well as all leads very neatly tied into a "harness". Two sockets are on the back (along with a fuse holder & 1/8A fuse) and all connections are brought to one, then ran in parallel to the other.
If you have been watching for B-8091 (or NL-8091) nixies, then you know they are almost "unobtainium".
Imagine the large nixie clock you can build having the big, beautiful end-view tubes!
Here's your chance to buy a display unit with all the difficult machine work already done. Plenty of room to add your clock board. Even enough to add a 12 volt, 1 amp power transformer. The connectors on the back of the unit can be removed, replacing them with block-off plates, and this would be a convenient place to fix a line cord into, or a DC power jack if you prefer an external "wall wart" supply.
The faceplate is 5 1/4"H x 19"W, the enclosure behind 4 7/8"H x 14 1/8"W x 3 3/4"D. Please note the bezel with a scuff on the right upper corner looks worse in a couple of photos than it really is. Not bad for a piece about 45 years old.
Though just set up for 24-hour time (leads to sockets for tens of hours go to 2, hours to 9, tens of minutes to 5, minutes to 9, tens of seconds to 5, seconds to 9), there should be plenty of wire to connect additional socket lugs to your clock board if using a fancy controller IC to have cool effects like "slot machine" anti-cathode poisoning routines, fading effects, date display, and all the other neat stuff they can do.
I can only speculate as to the original use/environment, but I suspect these were displays connected to large laboratory atomic clocks.
A clock made from one would be awesome, and is definitely in my plans. The case could be kept very close to original for that old skool industrial look, or you could refinish the face plate to better match the other components in your rack. In any case, you may want to do a little "touch up". [In fact, a walnut case meant for a rack-mount pre-amp would likely fit nicely, and look really good if you don't have a big rack full of gear. -or- You could cut the faceplate down and delete the rack handles for a more compact unit.] My plan is using tiny 6x6x9.5mm tactile push buttons mounted in the end of the bezel (easy to push reaching a finger through a rack handle) for the clock controls (almost invisible).
I'll give you the chance to build one too. My thought is a unit such as this is easily worth $650.00 + shipping since the B-8091s alone would be about $100.00 each (if/when you could even find any). Of course the sockets might be found for about $10.00 each (?). The rack case likely another $50.00.+ If you're a thrifty shopper, handles could be as little as $5.00 for the pair. What about that big black custom bezel? Where would you find that? How long to fabricate it yourself (or could you)? Throw in the amber plastic lens and stainless steel hardware... well, I think you get the idea.
No reserve, high bidder wins it. Consider the buy it now, as it will disappear on the first bid. The tubes have very little time on them (pun?), all digits have been tested with no cathode poisoning! When did you last buy a used display and know this much about it?
Thanks, and best of luck. If you have any questions, just send a message through the eBay system. If you would like to be put on a list to be notified when a completed clock is available (please don't be in a huge hurry), send a message with your e-mail address (might want to add in "at" and "dot" to avoid spam-bots and that sort of thing). If you are not in the United States, but genuinely want to buy or bid, send a message with your address. I'll see about sending a shipping quote and adding your country.